Introduction
When it comes to leisurely reading outdoors, having the right chair can make all the difference. The perfect outdoor chair for reading should offer comfort, support, and durability, allowing you to lose yourself in a good book while enjoying the beauty of nature. In this comprehensive guide, we will explore the top choices for outdoor reading chairs, helping you make an informed decision for your next reading adventure.
Why Choose an Outdoor Reading Chair?
Before diving into our selection, it's essential to understand why choosing a dedicated outdoor reading chair is crucial. Unlike indoor furniture, outdoor chairs need to withstand various weather conditions, provide adequate support for prolonged reading sessions, and offer a blend of comfort and style that complements your outdoor space.
The Features to Look for in an Outdoor Reading Chair
When searching for the best outdoor chair for reading, several key features should be on your radar:
1. Comfortable Design
The first and foremost consideration is comfort. Look for chairs with ergonomic designs, plush cushions, and ample seating space. A chair that allows you to relax for extended periods is essential.
2. Durability
Since outdoor chairs are exposed to the elements, durability is vital. Chairs made from weather-resistant materials like teak, aluminum, or resin are excellent choices. They should also have a sturdy frame that can withstand the test of time.
3. Portability
If you plan to move your reading chair around your outdoor space, consider its portability. Lightweight chairs or those with built-in handles are more convenient.
4. Adjustable Features
Having the ability to adjust the chair's recline or height can greatly enhance your reading experience. Look for chairs with adjustable features that cater to your specific preferences.
5. Style and Aesthetics
Your outdoor chair should seamlessly blend with your outdoor décor. Consider the style, color, and design that will complement your patio or garden.
Top Picks for Outdoor Reading Chairs
Now that we've covered the essential features, let's dive into our top picks for outdoor reading chairs:
1. Adirondack Chair
The classic Adirondack chair is an iconic choice for outdoor relaxation. Its ergonomic design provides excellent lumbar support, and it's made from durable, weather-resistant materials.
2. Hammock Chair
For a unique reading experience, consider a hammock chair. It cradles you in comfort and allows you to sway gently while getting lost in your book.
3. Zero Gravity Chair
Zero gravity chairs offer the ultimate in comfort and adjustability. They recline to a near-horizontal position, making them ideal for reading, stargazing, or even taking a nap.
4. Wicker Rocking Chair
A wicker rocking chair adds a touch of classic charm to your outdoor space. It's perfect for those who enjoy the soothing motion while reading.
5. Folding Lounge Chair
Folding lounge chairs are incredibly portable and space-saving. They're easy to store and transport, making them versatile for outdoor reading.
Conclusion
Investing in the best outdoor chair for reading is a decision that will enhance your outdoor relaxation and reading experience. Consider your specific preferences, needs, and outdoor decor when making your selection. Whether you opt for the timeless Adirondack chair, the gentle sway of a hammock chair, or the unmatched comfort of a zero gravity chair, you'll be well on your way to enjoying countless hours of outdoor reading.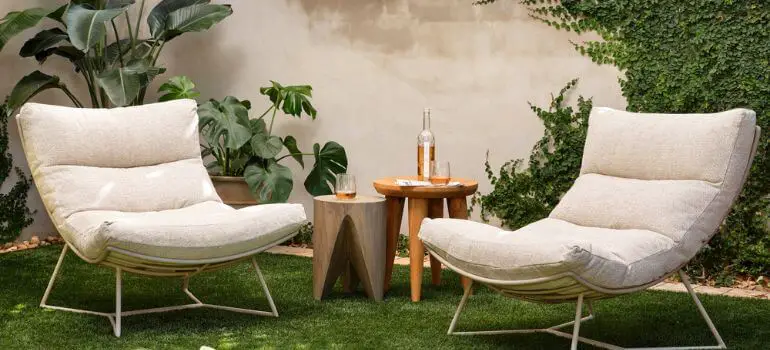 Frequently Asked Questions
Are outdoor reading chairs suitable for all weather conditions? Outdoor reading chairs made from weather-resistant materials can withstand various weather conditions, but it's advisable to store them during extreme conditions.
Can I use indoor chairs for outdoor reading? While you can use indoor chairs outdoors temporarily, dedicated outdoor reading chairs are designed to withstand outdoor elements and provide comfort tailored to outdoor use.
How do I maintain my outdoor reading chair? Regular cleaning and proper storage during harsh weather conditions will help prolong the life of your outdoor reading chair.
Are there eco-friendly options for outdoor reading chairs? Yes, some brands offer eco-friendly outdoor chairs made from sustainable materials, contributing to a greener environment.
Can I customize my outdoor reading chair to match my outdoor decor? Many outdoor chair options come in various colors and styles, allowing you to choose one that complements your outdoor space.