If you have a small living space at home, then you should get a loft bed. Perhaps, it is an ideal choice if you want to save a room area.
Can you believe that you can get a good loft bed? Of course, there are lots of choices on sale, and choosing one can be a daunting task.
In this guide, we will introduce to you some products that ensure durability and safety frames for you and your family.
We will find out the most reliable brands that offer premium-quality loft beds that will guarantee your satisfaction.
Let's get into details, so just read on!
Top 5 Loft Bed Review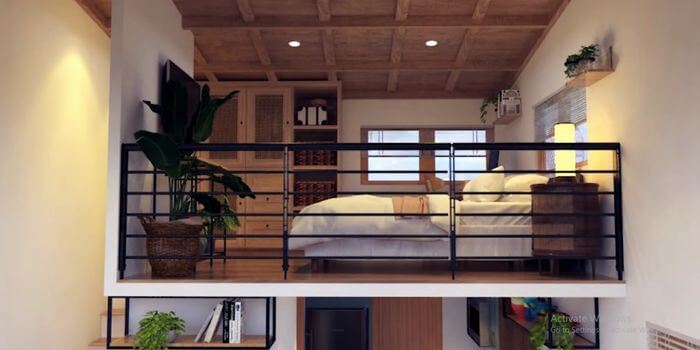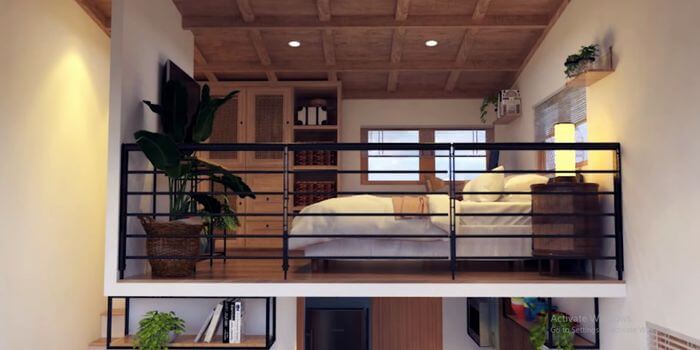 There's no way you should rely on a brand that dubs itself as the best. Instead, its quality should be proven by users.
Because we want things to be easier for you, we compiled some of the top-notch products that you can find on the market.
Novogratz Maxwell Loft, Desk & Shelves
Integrate an industrial and modern look to your child's room while saving space with this loft bed, desk, and shelves created by a power design duo – Robert and Cortney Novogratz.
With years of experience, the couple ensures that the design and construction of their product will not disappoint you.
You don't have to worry about slipping or falling because the Maxwell loft bed is exceptionally secure and stable.
By placing it against the wall, you will have extra support, increasing its steadiness, and it also prevents shaking.
There are two corner shelves and a full-length wood desk surface that comes with its design. You can personalize and add decorations such as plants, frames, books, or anything that sparks your child's interest.
Since the product has a multi-functional design, you can maximize the room space without spending much money. Its metal frame, guardrails, and integrated ladder are very tough and durable.
And there's no need to use any mattress foundation for this product because its metal slats are sturdy enough to hold the sleeper and the mattress securely. You can assemble it quickly with simple steps from the instruction manual that comes with it.
Below the bed, there's enough space for study since it has a clearance of 58 inches. The bed can handle a weight of 200 pounds, its desk can hold 130 pounds of weight, and the shelves can support a weight of 50 pounds.
This product is available in various color options that would fit the palette of your child's room. Also, a standard twin-size mattress, with a maximum height of six inches, can suit the Maxwell loft bed.
Get this sleek and contemporary multi-functional product because it will surely satisfy you without burdening your wallet!
DHP Junior Loft with Slide
Every child's fantasy is to have a wonderland at home. You can turn your kid's dream into reality with this loft designed with a slide from DHP. Convert a simple, dull room into a fun playroom!
This all-metal loft bed weighs 84.5 pounds. With its durable construction, your child won't experience any squeaking or shaking during use.
Its sturdy metal frame can hold a maximum weight of 200 pounds. And there is no need for installation of a box spring or foundation because it comes with metal slats.
And this also includes guardrails that stretch along the bed's length to increase the safety of your child during playing or sleeping.
Its rails are quite low in height, so it is advisable to use a thin mattress to prevent your kid from falling or rolling over the bed.
The metal slide has a heavy-duty structure and has four bars made of metal underneath for extra support whenever they're playing. You will be assured that no harm will come to your child because this loft meets the standards set by CPC and ASTM.
Beneath the bed, there is enough clearance space that you can utilize by placing cabinets, shelves, or desks for increased functionality.
For additional storage space, there are also rail pockets alongside the bed. Well, it is an ideal place to stash dolls, action figures, books, or videogames.
Kids love role-playing, and there are various curtains available to dress up the loft bed. And this includes a bakery, fort, pink caste, and a lot more. Add these curtains to spice up your child's room!
Let your kid experience a playroom and bedroom all-in-one. At such an affordable price, you will be satisfied with the product's exceptional durability and space-saving capability.
DHP Junior Loft Bed Frame with Ladder
The next product on this loft bed review is this simple and basic junior loft bed from DHP that will complement the modern and minimalist theme of your child's dream room.
It is 78 inches in length, 41.5 inches in width, and 50 inches in height. Although this is quite lower in height compared to its competitors in the market, this characteristic is not a disadvantage because it makes the product ideal for younger or smaller children.
And the area below the bed is very spacious and is just enough to place a study desk beneath it. Aside from this, your kid can utilize the space for playing, storing belongings, or lounging.
Much more, it is made of durable and sturdy materials. Falling over the bed is not something that you should worry about.
Well, this comes with full-length guardrails on its upper bunk for additional safety and security of your child.
It also comes with secured metal slats that won't require a box spring or any foundations for support.
More excitingly, this unit can hold up to a maximum of 200 pounds of weight, and don't worry about complicated setups because it comes with clear and simple instructions that you can easily follow.
Most importantly, special tools are not necessary for assembling the product.
Get your child to experience a comfortable night's sleep with this loft bed from DHP!
DHP Miles Loft Bed with Desk
This full metal loft bed from DHP will never disappoint you! With its stylish and durable design, your purchase will surely be worth it.
The loft does not only provide your child with a secure and stable sleeping surface, but it also offers an expansive 58-inch clearance underneath the bed.
It is integrated with a desk that can be his or her reading nook, craft area, or workstation. Take note that the table has a weight limit of 50 pounds to avoid overloading.
The ladder is sure to be sturdy, so it enables your children to climb up and down without much effort.
And it also comes with full-length guardrails that are 14 inches long to ensure their safety while sleeping.
Besides this, there are durable metal slats integrated therein for the support and stability of the mattress. With this, you won't need to install box springs or any foundation.
The maximum height recommended for the mattress is 6 inches, thereby guaranteeing the safety of your children.
This will also prevent them from rolling over the rails of the bed. Also, the product's weight limit of the upper bunk is at 200 pounds.
Multiple colors are available to suit the palette and decor of the room. Make your child happy with this multi-purpose loft bed from one of the most trusted brands in the market!
DHP Studio Loft Bunk Bed
Limited space in your child's room? The last product on this review is space-saving and multi-functional, which is more suitable for your older kid or teen.
Well, it offers a lot of storage space underneath the bed, just perfect for studying or working.
DHP is a reliable brand when it comes to affordable and durable loft bed frames.
The product has a weight of up to 200 pounds. There's no need for special tools because this frame assembles quite easily.
It includes multiple metal slats that can accommodate any twin size mattress with a maximum height of 6 inches.
With this construction, there is no need for an added foundation for support. Keep in mind that this limit is for the safety of your child so that he or she will not fall over the guardrails.
You can choose from two color finishes to match the decor of the room: silver and black. This all-metal loft bed will look classy and sophisticated in your kid's bedroom. It guarantees satisfaction at such an affordable price!
What to Look for before Buying
Before purchasing a loft bed, below are some of the things that you should look for in a product.
Design
You should first be informed about the different variety of forms and styles among loft beds. Here are the most common designs offered in the market:
Classic: It features a top bunk and an open space below the bed.
With Built-In Storage: These are perfect options for space-saving. It offers shelving, cabinets, and drawers for your use.
With Built-In Desk: These kinds include shelving, slide-out keyboard trays, and a desk.
For Young Children: Offers a reading nook, playhouse, or slide that will surely enhance the imaginative skill of your child.
Twin over Full: It provides a bed in full-size, facing forward that is usually detachable.
Size and Style
It is necessary to consider how big the room is. Although most loft beds hold the same mattress sizes, they do not have the same length, width, and height.
There are different styles available in the market: modern, rustic, minimalist, and a lot more, and they all vary in size and shape also.
Surely, there is one that will suit your preference and the decor of the room.
Features for Safety
Make sure that a loft bed frame has guardrails, especially if your child will be the one using it. Not all rails have the same design; some have openings, while some don't. It is too risky for a kid to go over the railing while climbing up or down.
Materials
Metal, wood, or a combination of both mostly comprises a majority of loft frames in the market.
Those made with bonding wood fiber are often steadier and firmer. Metal loft beds are usually from wrought iron, metal rods, or steel tubes, the most common material used because of its sturdiness, and at the same time, it is lightweight.
Frequently Asked Questions
Below are the most commonly asked queries regarding the loft beds:
How much weight does a loft bed hold?
Its weight capacity may vary, but most typically, a loft bed made to hold a twin mattress can support a weight of 200 to 260 pounds. Those designed to handle much higher weight limits can hold a maximum of 600 pounds.
Loft beds are suitable for what age?
A child over six years old is the most desirable age for owning a loft bed. It may be dangerous if he or she is not mature enough to know that it is for reading and sleeping purposes only.
How much headroom is needed to install a loft bed?
Headroom of at least 30 inches is a must, according to the Consumer Product Safety Commission. The purpose of this is to avoid your child from bumping his or her head to the ceiling.
Can adults use loft beds?
Yes, of course! There are loft beds made and designed for adults to use. It is an ideal choice for someone who has a limited floor space; some are even multi-functional that comes with shelves, and desks to maximize the small room space that you have.
Are guardrails necessary?
These rails serve as extra protection and safety for the sleeper, especially for a child. It may cause various accidents if the loft bed has no barrier to restrict the movement of the sleeper.
Final Words
There are hundreds of different options to choose from regarding the perfect loft bed for your child. They all vary in price, measurement, color, purpose, and design to fit every child's needs.
This guide provided you with five selected loft beds to ensure your kid's comfort and security while not emptying your wallet or bank account.
It is up to you to choose which one fits the lifestyle and personality of your young one.* What the star implies: Links marked with a * mean that we will receive a commission if a booking or a specific action is made via the linked provider. There will be no additional costs for you. Also, we won't receive any money just by setting links.