Introduction
When it comes to creating a relaxing and enjoyable backyard oasis, two popular options come to mind: hot tubs and pools. Both offer unique benefits and can elevate your outdoor experience. In this article, we'll compare hot tubs and pools, examining their features, benefits, and considerations, to help you make an informed decision that aligns with your preferences and lifestyle.
1. Hot Tubs: A Soothing Haven
Understanding Hot Tubs
Hot tubs, also known as spas, are self-contained units designed to provide hydrotherapy and relaxation. They typically come in various sizes, accommodating a few individuals to larger groups. Hot tubs are equipped with jets that release warm, bubbling water, promoting muscle relaxation and stress relief.
Health Benefits of Hot Tubs
Using a hot tub regularly can offer several health benefits. The warm water and jets can help alleviate muscle tension, improve blood circulation, and provide relief from joint pain. Additionally, spending time in a hot tub can reduce stress levels and enhance overall well-being.
Types of Hot Tubs
Hot tubs come in different varieties, including inflatable, portable, and permanent models. Inflatable hot tubs are affordable and easy to set up, while portable ones can be moved around your backyard as needed. Permanent hot tubs are more luxurious and are integrated into your landscape.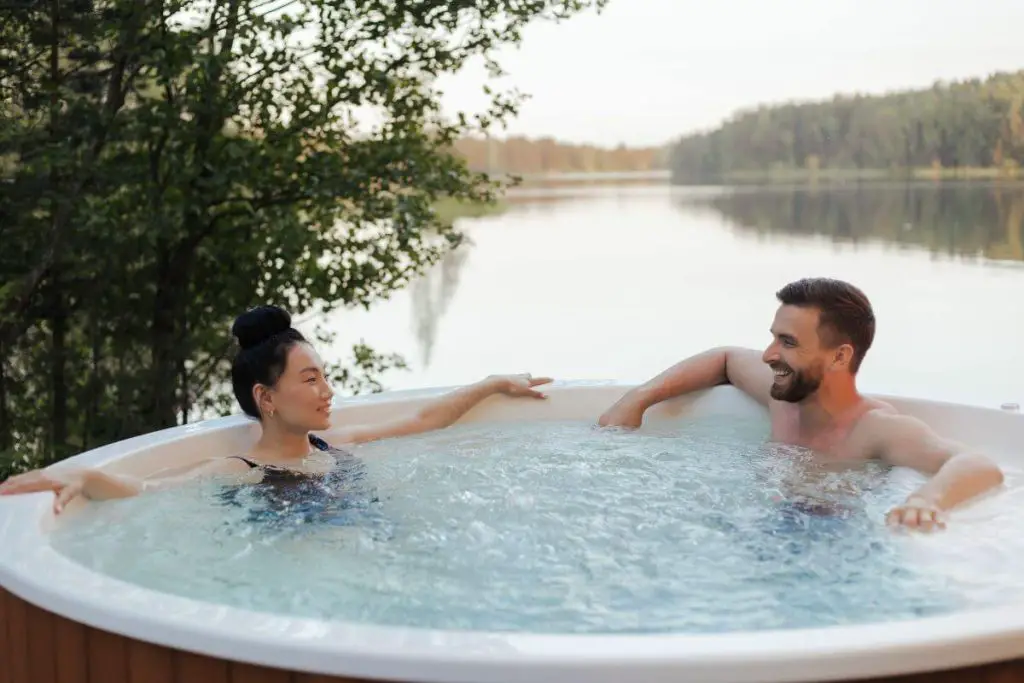 Factors to Consider when Choosing a Hot Tub
Before purchasing a hot tub, consider factors like size, seating capacity, energy efficiency, jet types, and additional features like lighting and audio systems. Ensure that the hot tub aligns with your available space and desired level of comfort.
2. Pools: A Refreshing Escape
Understanding Pools
Pools are large, water-filled structures that allow for swimming, recreation, and exercise. They come in different shapes and sizes, from small plunge pools to expansive lap pools. Pools provide a refreshing escape, especially during hot summer days.
Health Benefits of Swimming
Swimming is a low-impact exercise that offers numerous health benefits. It can enhance cardiovascular health, strengthen muscles, and improve flexibility. Swimming is also an excellent way to unwind and stay active.
Types of Pools
Pools can be categorized as above-ground or in-ground. Above-ground pools are more affordable and easier to install, while in-ground pools offer greater design flexibility and can add significant value to your property.
Factors to Consider when Choosing a Pool
When selecting a pool, consider factors like size, shape, depth, materials, and additional features such as waterfalls, slides, and diving boards. Take into account the purpose of the pool, whether it's for recreation, exercise, or aesthetics.
3. Hot Tub vs. Pool: A Detailed Comparison
Now that we have explored the individual features of hot tubs and pools, let's compare them side by side to understand which one may be more suitable for your needs.
Cost
Hot tubs are generally more affordable upfront compared to pools. The price range varies based on the size, material, and features. Pools, on the other hand, involve higher initial costs due to construction and installation expenses.
Installation and Space Requirements
Hot tubs are relatively easy to install and can be placed on existing patios or decks. They require less space and can fit into compact backyards. Pools, however, demand significant space and involve a more complex installation process.
Maintenance
Hot tubs require regular maintenance, including water testing, cleaning filters, and maintaining appropriate chemical levels. Pools also need maintenance, such as cleaning, pH balancing, and checking the pool pump and skimmer.
Seasonal Use
Hot tubs are suitable for year-round use, providing warmth and relaxation even during colder months. Pools, especially those without heating systems, are typically used during the warmer seasons.
Social Aspect
Hot tubs create an intimate and cozy setting, perfect for spending quality time with close friends or family. Pools, on the other hand, can accommodate larger gatherings and pool parties.
Health Considerations
Hot tubs offer hydrotherapy benefits, making them an excellent choice for individuals with muscle or joint issues. Swimming in pools is a full-body exercise, benefiting cardiovascular health and overall fitness.
4. Combining Both: Is it Feasible?
If your budget and space allow, combining a hot tub and pool can provide the best of both worlds.
Benefits of Having Both
Having both a hot tub and a pool offers diverse experiences, catering to relaxation and exercise needs. It provides more options for entertaining guests and can elevate the overall ambiance of your backyard.
Space and Budget Considerations
Consider the available space in your backyard and whether it can accommodate both a hot tub and a pool without feeling crowded. Additionally, plan your budget carefully to ensure you can afford the construction and maintenance costs of both features.
Creating the Ultimate Backyard Oasis
By integrating a hot tub and pool seamlessly into your backyard landscape, you can create a luxurious oasis that complements your lifestyle and becomes the go-to spot for relaxation and recreation.
5. Making the Decision: Which One Suits You?
To make the right decision between a hot tub and a pool, consider the following factors:
Lifestyle and Personal Preferences
Think about how you will primarily use the backyard feature. If relaxation and hydrotherapy are your priorities, a hot tub might be the better choice. If you enjoy swimming and hosting poolside gatherings, a pool may be more suitable.
Budget Constraints
Evaluate your budget and determine how much you are willing to invest in the installation, maintenance, and operational costs of either a hot tub or a pool.
Home Value and Aesthetics
Consider how each option will impact the overall aesthetics of your property and potential resale value if that is a concern for you.
6. Conclusion
Ultimately, the decision between a hot tub and a pool boils down to personal preferences, lifestyle, and budget considerations. Both options offer unique benefits, whether you seek relaxation, hydrotherapy, or recreational activities. If space and budget allow, combining both a hot tub and a pool can create the ultimate backyard oasis, offering the best of both worlds.
FAQs
Q: Are hot tubs expensive to maintain?
A: Hot tub maintenance costs can vary, but regular upkeep is necessary to ensure water cleanliness and system longevity.
Q: Can I use a pool during the winter?
A: If your pool has a heating system, it can be used in milder winter climates. However, in colder regions, winterizing the pool is necessary to protect it from freezing temperatures.
Q: Can a hot tub help with muscle pain?
A: Yes, the warm water and massaging jets of a hot tub can help alleviate muscle pain and tension.
Q: How long does it take to install a pool?
A: The installation time for a pool can vary depending on its size and complexity, but it usually takes several weeks to complete.
Q: Are inflatable hot tubs durable?
A: While inflatable hot tubs are generally durable, they may not last as long as permanent or portable models. Proper care and maintenance can extend their lifespan.