Having something to build may give you a sense of accomplishment or a perfect bonding time for you and your family.
As a key foundation for your home, investing in a clutter-free area is never a bad idea. More so, it can also support your dream interior theme to life.
In it, you can achieve the best cabinet selection fantasy for your home, as well as owning the perfect organizational tool there is while complementing your lifestyle.
Being on a budget is never an excuse to do otherwise, especially if there are best craft cabinets under 100, or 200 to choose from!
Alongside working smart is a clutter-free area for your home or desk space. In the process, here are some of the finest but most affordable storage cabinets to choose from-
Best Craft Cabinets under $100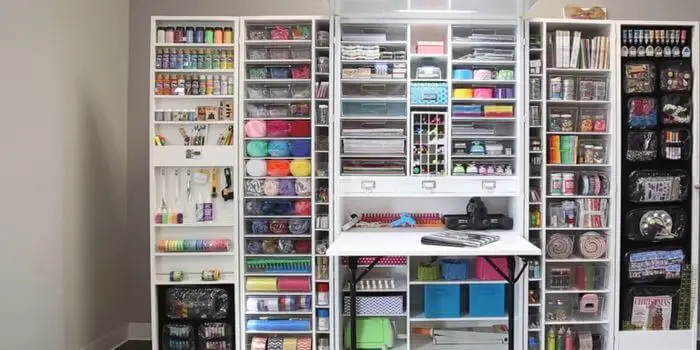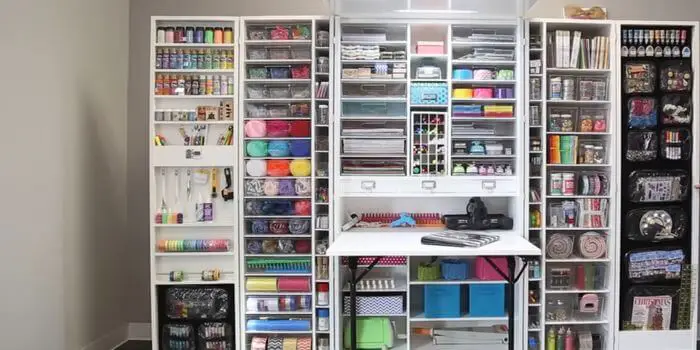 Purchasing a new cabinet can be a noticeable expense in house remodeling or organization. To make sure that you get the maximum value while staying within budget, here are some products under 100 worth trying!
IRIS USA, Inc DPC-24 24 Drawer Parts And Hardware Cabinet
Some consumer prefers a steady, immobile cabinet due to their misplacing tendencies, or simply, out-of-angle furniture may seem infuriating. With this product, you can be assured that it won't budge away from your walls!
Equipped with screw holes on its sides, it will make mounting much more manageable. It already has its designated hole location, which is why there is no need to put screws in your wall in advance.
Moreover, the structure of the cabinet provides its rigidity, keeping the stacked drawers intact, especially for often movement due to opening and closing slides.
The multi-drawer feature is a preference, especially in organizing. More drawer means more variety, and in doing so, it can help you find your things effortlessly. Also, its visible plastic design enables you to keep track of what is inside.
This prevents you from accidentally opening the wrong drawer, and know which ones are still empty!
Homak 39-Drawer Parts Organizer, Black, HA01039001
This product is perfectly designed for DIY hardware enthusiasts, or if you simply own a lot of craft supplies for your construction escapades.
Your tools and equipment, such as nuts and bolts, will undoubtedly be organized and help you prevent any last-minute hysteria due to your needed lost items!
The product features a lightweight design that can hold up to medium-duty amounts of materials.
Precisely, it consists of 9 large drawers and 30 small drawers, which showcases its flexibility regarding its usage.
Each clear plastic design makes you see its content more clearly, which saves you time in memorization of belongings.
As an organizational instrument, it can also keep its position by wall-mounting it, making it not hard to find.
Also, each drawer can be easily removed for your benefit of cleaning. The matte finish contributes to its modern and sleek looking design, which can undoubtedly help your workspace look classy!
Akro-Mils 10124
If you are looking for a perfect storage idea for your LEGO or fishing gear collection, look no further! This product is equipped with a high-quality polyester plastic frame that contributes to the sturdiness of the cabinet slides.
This can assure you that your things are safely secured in each drawer and not be broken by some external force.
Moreover, the dividers are already built-in through the frame, which would help each slide not move left and right; thus, it may scratch the drawers on its side. Each compartment is sturdy, which secures the stacks and its content within the allotted area.
Also, it can be wall-mounted with keyhole slots to prevent frequent movement throughout your home or workspace.
It comes with two variations for those who prefer small or large drawers depending on their equipment size.
Each has a finger-grip for smooth sliding and rear stop tabs to prevent unwanted removal of each drawer.
Best Craft Cabinets under $200
Having an expensive taste does not mean you need an expensive budget, but only a few extra "wiggle room" down the road. To make your choices to the next level, here are choices under 200!
Akro-Mils 19228
Labels are one of the needed keystones in the organization. It helps our mind to locate effortless, triggering our involuntary muscle movements to find our equipment easily.
With this in consideration, the product provides label storage for each drawer to make retrieving trouble-free!
It also has a transparent side on top, to see your things without the need to open it. If you do open it, the drawers have stop tabs in each one of them to prevent any lost items that may come along the way.
The eight-compartment frame is divided with dovetailed divides to leave room for customization options.
And the dividers help to retain the stacks in its area and to prevent unnecessary movement within it.
The drawers are sturdy and are corrosion, rust, and dent-proof. This ensures the safety of its content, especially for fragile ones. The removable capability also helps with the bulk removal of materials.
Akro-Mils 19909
If you are looking for a well-built and more durable type of craft cabinet than others, this product is worth trying!
The heavy-duty steel frame alongside its high-impact drawers helps your material to retain its quality without unwanted chippings or breakage while in storage.
Also, its rear stop tab prevents any loss or spills while opening each drawer, assuring you that no equipment would fall over.
The label slot and partially transparent design help your organizational escapades. It makes the job of finding materials easier and knowing which goes where along the way. For added variety, it has two dividers that can help in separation depending on its usage.
Its manufacturer designed this cabinet intending to help its consumer to save time by contributing to the safety of its handling efficiency.
The proper storage, optimizing each slot, and the shorten assembly time can be experienced by its owners!
Akro-Mils 10124
Some potential buyers have too many materials to store that one craft cabinet may not be enough.
With this product, it comes in three bundles, and you can stack them all together! The overall makeup is a high-impact polyester frame that can support its drawers and each cabinet that comes along with it.
And the 24 unbreakable drawers come with a finger grip design for easy access to materials. The dividers are already molded in the frame, making it sturdy and impossible to move around.
If you do not prefer stacking, it also supports wall mounting with built-in keyhole slots.
The plastic material of the drawer is transparent, making it see-through, which makes your organization easier.
It can store the medium-duty of materials and helps it to be securely placed within its allotted area.
What to Look for Before Buying
Before investing in new cabinetry for your home organization and aesthetics, it is always a required starting point to know the essential features in selecting the product of your needs-
Budget
In furniture buying, the allocated budget should be considered to prevent any unnecessary mark-up.
Even with a limited budget, you can still find affordable cabinets that offer high-quality materials that can suit your space.
Area Design
Whether it be a kitchen or workspace cabinet, you need to find a cabinet design that fits the look. Knowing what it needs to look like can help you narrow down the choices.
Measurement
"Where exactly can you put it?" should be a question you need to consider while buying. Purchasing a large cabinet while having only limited space at home is not ideal, as it tends to crowd the area.
Knowing what your maximum dimensions are before you start looking helps you save time and energy.
Content
The cabinet is used for craft, fishing, technical, or any kind of store, which means the amount, weight, and size of materials should be known. You cannot purchase a cabinet with small drawers for your large items, and vice versa.
Custom Ability
Each craft cabinet can be customizable differently. Knowing how you will organize and what is fit for your retrieving items can be helpful.
Assembly
The product should be user-friendly. If it does not come pre-assembled, know if you can assemble it yourself.
This includes their ability to deliver all the materials and their responsive customer service. Assess the overall structure of the cabinet and its instruction carefully.
Shelf Life
The lifetime of your cabinet can take up to years before it starts breaking, which is why investing in a durable product is preferable. Do not settle for months worth of investment.
Frequently Asked Questions
Here are the most commonly asked queries regarding the best craft cabinets:
Can a color sample be ordered?
It can be obtained from the manufacturer or seller. Though, it is preferable to visit the showroom to know more about the material since a sample only covers a small amount of the overall cabinet.
How long does the cabinet delivery orders take?
It depends on the location and availability; it is best to contact the seller for peak order hours and estimate arrival.
How can I install the cabinet?
Each cabinet, if not already assembled, comes with an installation guide. If yours did not, you could contact the customer service for the key instruction.
How do I take care of the cabinetry?
It is best to store it in an area that does not experience any environmental stress for more prolonged usage.

Also, keep in mind its weight and quantity capacity and keep it within the suggested limit.
Is it safe to buy cabinets online?
Yes. Some are afraid to do so due to the time and potential errors that may come with it. For loose parts, you can always ask for a replacement, though the travel time may vary.

Some stores showcase online to introduce the comfort of doing so, while not compromising the quality.
Final Words
Having an organizational companion for your materials is never a bad idea. Instead, it can save you time and energy, as well as increase your productivity in knowing where all your items are stored.
Now, you can keep in mind all the key essentials and find the craft cabinet that suits you!